Venue: Fitzgeralds
The show was for the US release for Helstar's album "The King of Hell" which they were selling the European versions of the album there though. Hahaha Show was pretty damn good, all the support were local acts so I didn't pay attention to them though one of them did a pretty good cover of Black Sabbath's "Electric Funeral".
Helstar absolutely tore the place up though. Only problem that really occurred was that a huge fight broke out during the first song of the encore. The scuffle lasted throughout the song and afterward Helstar said that if they didn't stop they'd just up and leave the stage, luckily the rest of the show went well. Helstar did a meet & greet after the show so that was cool of them to do.
Helstar's Setlist:
The King of Hell
Conquest
The King is Dead
Evil Reign
Burning Star
The Plague Called Man
When Empires Fall
Dracula's Castle
Harker's Tale (Mass of Death)
Wicked Disposition
The Garden of Temptation
--------------
Encore:
Run With the Pack
Pain Will Be Thy Name
Baptized in Blood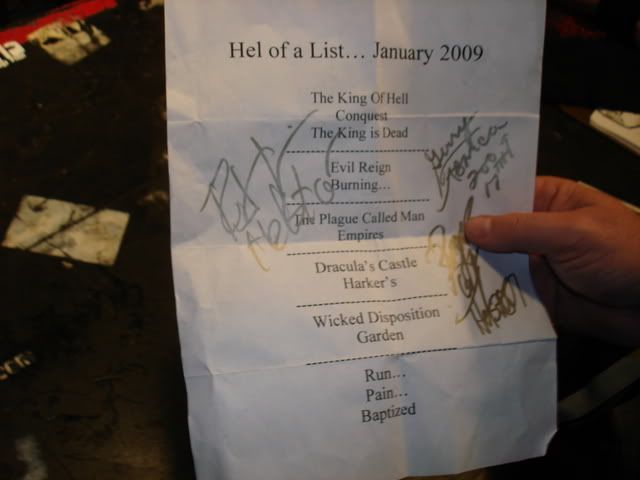 I also got video from my digital camera for "Pain Will Be Thy Name", good audio quality.
http://www.youtube.com/watch?v=1O2aSyLXJHw